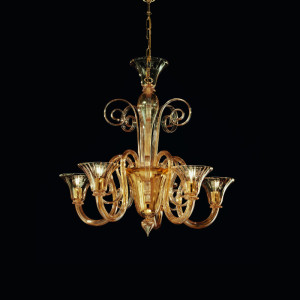 Sylcom Murano Lighting

Click on Logo above for more product information.
The Venetian tradition of glass making is world renowned, an alchemy of pure magic attained through the selection of precious material, glass of the purest composition, skillfully crafted 24-carat gold leaf, and handcrafted metals.
In keeping to canons of these classical Italian traditions, meticulous attention is paid to each Sylcom light design; increasingly, new inspiration and variations on ancient themes and re-visiting of earlier shapes can be found in the expressions of beauty, elegance and quality of its collection.
Each stage of production, from preparing the glass mix to the various other production processes, are all performed by Sylcom Lighting with a particular focus on and care to legislation concerning the environment.
Sylcom's commitment towards the environment was awarded, in February 2009, with one of the most important accreditations for its in-house environment management policy: the ISO 14001:2004 certification for the production and processing of blown and plate glass and production of glass lighting fixtures and furnishing accessories.
Made and Designed in Italy.
Showing 1–16 of 20 results