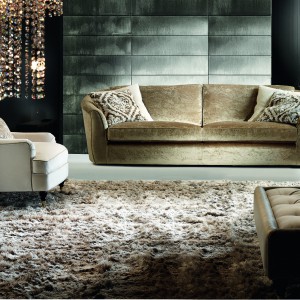 Cava Divani

Click on Logo above for more product information.
From a humble upholsterer's workshop in 1960, upholstering in the classical Italian tradition and with great enthusiasm for artisan quality, Atelier Cava drew on the patient skill of its classically trained seamstresses, their passion and enthusiasm for artisan quality, and began to design and develop upholstered models to meet new ideas and unique new shapes for a new fashion conscious decade. Soon it was experimenting also with some of the most advanced technological standards of modern day sofa production and beginning a successful spread of the Cava upholstery business across Europe.
Today, in every Cava creation, the ancient artisan quality of its original seamstresses still meets advanced research and planning to create solid, comfortable sofa structures, whip stitching and all the design, style and quality necessary for maximum comfort.
Cava has chosen to work exclusively with very prestigious bovine leather hides which allow greater elasticity and a superior result through a complex manufacturing process, giving its leather a natural smoothness and transparent finish; Cava leathers are made antique by hand and enriched by vegetable tanning, giving them a unique light perfume and softness.
The finest fabrics are chosen to fit the soft, harmonious shapes of each style of sofa creation; the cut is exclusively handmade and all kinds of passementerie – fringes, borders, marabou etc. – are painstakingly applied by the skilled hands of Cava's seamstresses.
Made and Designed in Italy.
Showing 1–16 of 29 results