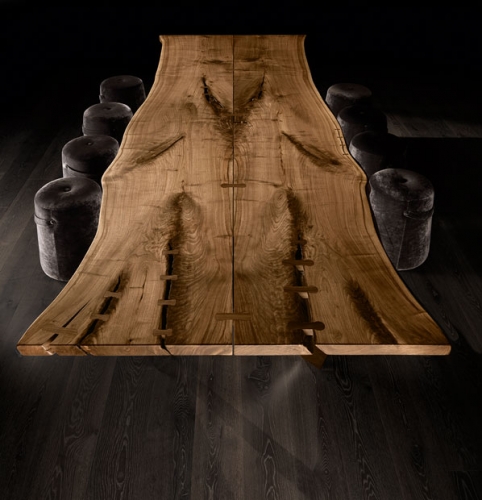 Vero Collection

Click on Logo above for more product information.
Vero is the true concept of a table. Because its creation, from the choice of raw materials to the precious finishes, is guided by one simple rule: listening to nature, to translate it into pure emotions.
Every emotion is unique. It is born, grows, transforms; its boundaries change over time and space. The best emotions are those shared. Oh yes, and what's better than a table to share them?
Arte Brotto chooses the best raw material, studying bark to accommodate natural edges of century's old trunks and logs joined with special joints, enhancing delicately the beautiful grain with finishes and keeping all the natural nodes for you to enjoy every single day.
Be it European oak, planed, stained, hand patina, American walnut sanded and hand-oiled, Canaletto walnut sanded and polished….this is the reason why each Vero table is unique, as unique as the emotions that it conveys.
Made by hand, one by one, listening to nature…..that's how the Vero Table from Arte Brotto is created from European walnut and oak…with emotion, and in dialogue with nature.
Made and Designed in Italy.
Showing all 8 results